Home
Shelties
Activities
Memories
Puppies
The Cat
Apple Acres Sagebrush Raven, TDX PT OA NAJ STDs HTD-Is HRD-IIs
(Raven)
April 21, 1994 - August 31, 2007
by Ch Apple Acres Matador ex Apple Acres Almost Twilight
15 5/8 inches
Bi-factored Tricolor
Eyes CERF clear
OFA Excellent

Raven had several Reserves to her credit, including a major reserve. Unfortunately, she never produced any puppies.

An independent dog whose agenda did not always correspond with mine, she taught me more about dog training than all my other dogs combined.

Raven was a smart dog. In tracking, I taught her to sit when she found an article dropped by the tracklayer. She figured out on her own that a sit usually meant that we were finished for the day, and she began to give me a sit when she didn't want to track. It was great communication on her part even if it wasn't exactly what I had in mind.
| | |
| --- | --- |
| | |
| | |
| --- | --- |
| | Raven ventured into the world of agility with me, but it was clearly not her favorite activity. She earned her OA and NAJ before I retired her. |
| | |
| --- | --- |
| Raven was a great tracking dog. If truth be known, she had a better nose than Molly. She is the only one of my dogs who not only was certified on her first try, but passed both her first TD test and her first TDX test. Here she searches for the scent at a corner, where the tracklayer made a turn. | |
Raven was always an on-again-off-again girl with sheep. When she wanted to work them, she did a very good job. When she didn't, an onlooker would swear that she had no herding instinct.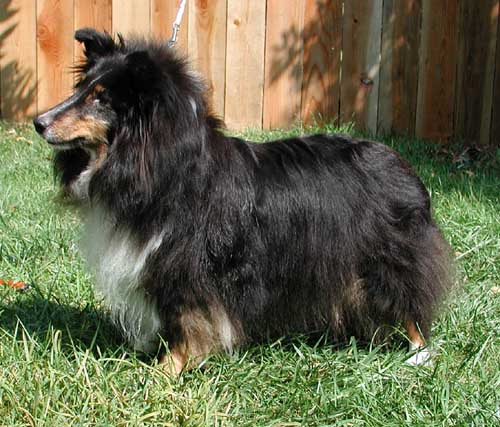 Raven at age 12
---
Read more about Raven:


Sheltie International, April-May 2000 in article by Terrie Van Alen
(NorCal Shetland Sheepdog Herding Club Reserve Combined Working Dog)
Sheltie Pacesetter, September-October 2000, in The Sheltie At Work
(article about her TDX track)
ASSA Handbook, 2001, Alicia Keegan's article, Tracking The Tracking Shelties
---