Home
Shelties
Activities
Memories
Puppies
The Cat
Sagebrush Little Britches, UD TDX
(Britches)
January 16, 1984-October 24, 1999

Britches at 2 years

14 3/8 inches
Sable & white
Eyes certified normal
OFA Excellent

Britches was one of a litter of four born in my home. Her littermates include Sagebrush Wildcat Annie, CDX and Sagebrush Molly Of Candyland, CD. Britches was a character. She had no use for anyone other that myself, although she accepted my husband. But she had a terrific sense of humor, and she excelled in cuteness.

She had a couple of reserves to her credit, but she didn't particularly care for the show ring. And her idea of a litter was one or two puppies. Her first litter was Sagebrush A Girl In The Valley, CD, who died young. And luckily for me, her second litter contained CT Sagebrush Molly Brown, UD HS AX OAJ VCD2 STDs HTD-IIs HRD-IIIs, who was the breed's first Champion Tracker.
---
| | |
| --- | --- |
| Britches attended her first all-breed match at the age of 4 months. She was Best Puppy In Match with my friend JoAnne Hawkins handling her. I was handling her littermate, Annie. | |

Britches at 8 years

Britches at 12 1/2 years, shortly after she passed her TDX test

Britches aged well and enjoyed working well into her teens. Her distractability made her an indifferent obedience dog, but she was a great tracker. She once followed a track right under the nose of a curious horse without giving any indication that she knew the horse was there. She was fun to train. On one occasion she was following a track, and was distracted by a discarded box with the remains of Kentucky Fried Chicken a few feet to the side of the track. She went over and investigated the box, and I directed her back to the track. She went right back to the box, and I took her back to the track again. It was becoming apparent to her that I didn't realize the importance of Kentucky Fried Chicken. The third time she went back to the box, she looked up at me and very deliberately sat, which was her article indication. She clearly though that I needed to know how important a find this was! My first TD dog, Britches started her tracking training at the age of nine, and was over 12 when she passed her TDX test. She was only the 28th Sheltie to earn a TDX.
---
| | |
| --- | --- |
| Britches passed her TDX test on April 21, 1996, on her second try. The Oakland Dog Training Club test was the last test of the season, and I really didn't know if I could keep her tracking for another year, as she was 12 years old. It took her nearly an hour to work through the track. She had considerable difficulty at the last turn, as some bird watchers had tromped through the area earlier in the morning. She got her picture taken for her trouble. I got poison oak. | |
| | |
| --- | --- |
| | Britches never competed in agility. She was a senior citizen when I first built some agility obstacles. But she insisted that if the other dogs could do it, she could do it too. She was 13 1/2 years old when we took this shot of her going over a lowered A-frame. |
---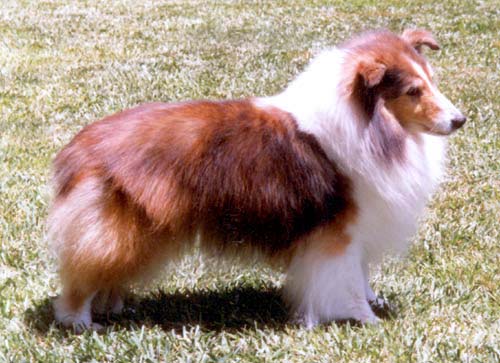 Britches at age 15 in 1999
---
Read more about Britches:


Sheltie Pacesetter, September-October 1886, in The Sheltie At Work
(article about her TDX track)
---