Home
Shelties
Activities
Memories
Puppies
The Cat
CT Sagebrush Molly Brown, UD HS AX OAJ VCD2 STDs HTD-IIs HRD-IIIs
(Molly)
March 5, 1990-October 23, 2004
by Ch Sea Haven To Wynset With Love, CD ex Sagebrush Little Britches UD TDX
15 inches
Sable & white
Eyes certified normal
The first Sheltie to obtain the Variable Surface Tracker and Champion Tracker titles, Molly cannot be contained in one page.
A slow dog to mature, she didn't start formal obedience classes until she was a year and a half old. Then she took off, earning her UD (Utility Dog) when she was five years old, with two first placements.
Molly was never a dog to sit around the house and take it easy. For her entire life, she was an enthusiastic collaborator in any activity I wanted to pursue. By the time she finished her UD, she had taken up a second career in herding. At age eight, when I started agility with my younger dogs, Molly insisted that she could do it too. She earned her Tracking Dog title at age nine, and was eleven when she finished her tracking championship.
There will be other Shelties in my life. There will never be another Molly.
Molly was four years old when I first asked her to work sheep. She took to sheep with her usual enthusiasm, although I cannot say she was a particularly gifted herding dog. She earned High in Trial and Reserve High in Trial awards in both AKC and AHBA sheep herding trials. She never acknowledged that ducks were livestock. Driving sheep proved to be her Achilles heel, so she never got farther that the started class in AKC trials. She completed her Herding Trial Dog IIs title, managing a difficult drive with the sheep a good fifty feet away from me. Her last trial was New Years weekend at the dawn of 2000, when she completed her Herding Ranch Dog IIIs title at nearly ten years of age.

Molly and Alicia Keegan, High in Trial, AHBA Herding Trial, Santa Rose CA April 1995
| | |
| --- | --- |
| | Molly was the first dog I ever ran in agility. Her age (she was nine when she first competed in agility) and my mistakes in training limited her accomplishments. She earned her NA in three straight shows with clean runs, with her jumpers title following soon afterward. In the open class, we began to have trouble making standard course time. But she ran cheerfully, earning her OAJ and AX titles, with three legs towards her MX, before a recurrent front leg lameness put an end to her agility career. |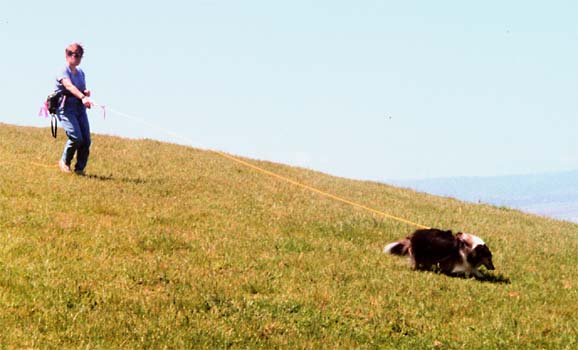 Molly and I started tracking when she was six or seven years old, when I was training her mother for TDX work. She proved to be an absolutely tenacious tracker, never giving up in her search for articles dropped by the tracklayer. Like her mother, she tended to fringe (to work the edge of the scent pool, rather than the exact footprints of the tracklayer). Her willingness to keep working when the track got difficult was the key to her success. She was nine years old when she earned her TD title (Tracking Dog). We then started both TDX (Tracking Dog Excellent) and VST (Variable Surface Tracker) training simultaneously. She took to the urban tracking environment of VST very well. In many ways she was better at VST tracking than at field tracking. We varied our training depending on what kind of tests were upcoming. She passed her VST test on her first try in December 2000. The following spring, she passed the last TDX test of the season to become the first Sheltie to earn an AKC Tracking Championship (CT).
| | |
| --- | --- |
| Molly at age 14 | |
Read more about Molly:
Sheltie Pacesetter, November December 1995, in The Sheltie At Work
(write-up about the Northern California Shetland Sheepdog Herding Club AHBA herding trials)
Sheltie International, April-May 2000, in Northern California Versatility Dogs, by Terrie Van Alen
Sheltie International, October-November 2001, Alicia Keegan's article, The First Sheltie Champion Tracker
ASSA Handbook, 2001, Alicia Keegan's article, Tracking The Tracking Shelties
---